"Legacy of Love"
The fiction of Rhonda Collins, based on the TV series Beauty and the Beast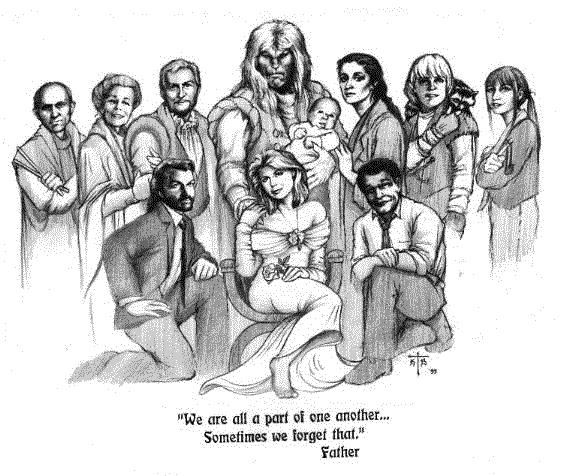 Unity by Kevin Barnes
---
My name is Rhonda Collins. I've been a fan of Beauty and the Beast since 3rd season, when a friend forced me to watch it. I watched all of 3rd season and went back and watched all of 1st and 2nd when it came back on the Family Channel. Then my friend, Tonya, told me solemnly, "There won't be any more stories. You'll have to write me one."
She created a monster. Now, some 10 full-length novels, numerous stories and novelettes later, I STILL love the show.
I write primarily what is called 4th season...which assumes that what we were given on screen is canon and goes on from there. Even when I write "Classic" Beauty and the Beast where Catherine is alive, it is never done in the timeframe AFTER Cathy died on the show. I try to do nothing that conflicts with what we were given.
I've written two separate series of 4th season fanzines with Vincent and Diana and one full length Classic novel with Vincent and Catherine (which won the award of "Best Foreign Publication" at the English convention a couple of years ago), along with one digest-sized Classic fanzine. I've also done a rather strange 4th season SND novel where I brought Cathy back as a vampire...but hey...it didn't conflict with what we were given in the series. It was fun to write and turned into a great story! So, without more ado, welcome to my page!
In a new venture, Rhonda Collins, with the pseudonymous Sandra McLaren, has produced a fact-based, fictionalized biography of a lady who, as a teenager (and afterward) had a passionate affair with an Arab prince. It's to be issued in three volumes collectively entitled Castles In the Sand. The first book, Kahramaan, is now available in a professionally produced volume, issued by Rhonda's new imprint, Castle Publishing. A limited number of books signed by both authors are available.
To read a substantial excerpt from the book and find out if this romantic (and explicit) tale of a forbidden love, with lovers from different and seemingly irreconcilable worlds, who cannot be either "truly together" or apart, is as enthralling to read about as it must have been to LIVE, visit the website http://www.castlepublishing.com.
In the US, Kahramaan is priced at $12.50 (includes postage/insurance). You can either click that website's "buy it" button and use a credit card; or you can send a check/MO directly to Rhonda Collins, 4511 Allegheny, San Antonio TX, 78229. For international orders/pricing, please see the Castle Publishing website, http://www.castlepublishing.com.
Available on this website:
| | |
| --- | --- |
| An interpretation of Forests of the Night--"Tyger, Tyger," complete | "The Power of Night," complete |
| an excerpt from The Mirror of Our Dreams | an excerpt from Legacy of Love |
| an excerpt from Rhonda Collins' TRILOGY | an excerpt from Shadow Dancers |
| an excerpt from BloodBond | an excerpt from the Classic novel Echoes of the Heart |
| | Classic story "Unworthy Knight," complete |
---
To learn more about the Zines (and books) of Rhonda Collins
---
To find out how to order a T-shirt with Kevin Barnes' "Unity"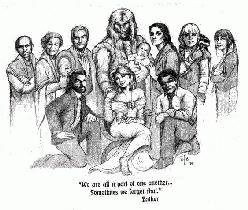 ---
In these fan writings, no infringement is intended upon rights to Beauty and the Beast
held by Republic Pictures, Ron Koslow, or any other rights-holder to Beauty and the Beast.
---

Visit the new, official B&B website in progress--with MERCHANDISE!
---